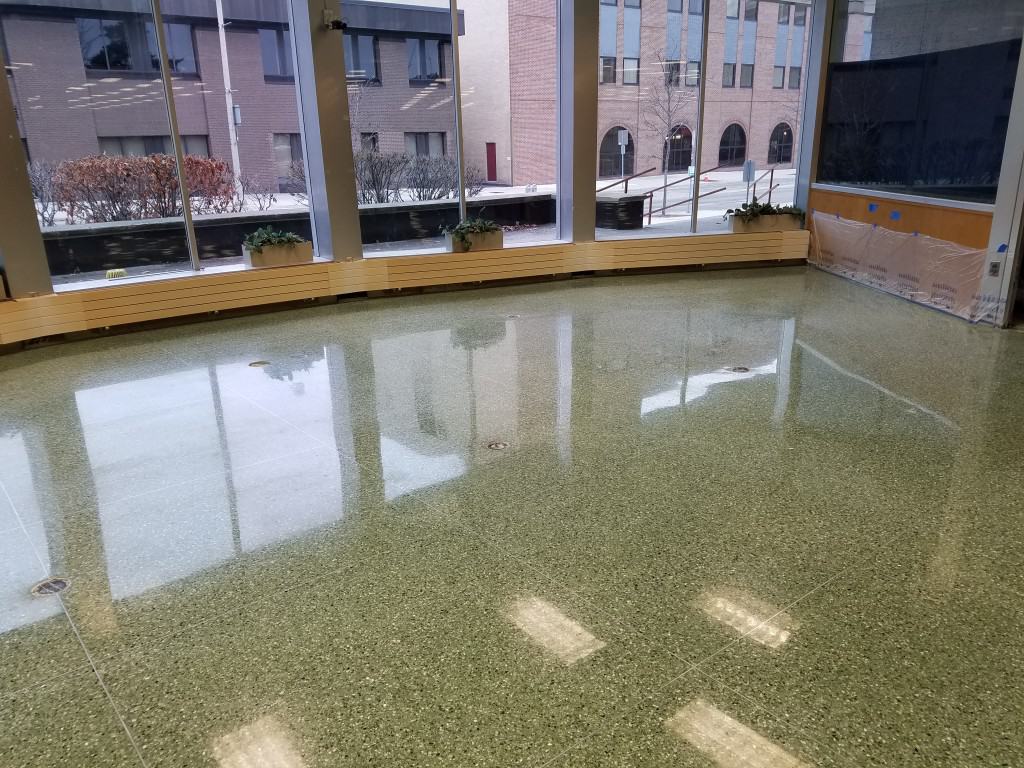 Are you ready to witness the breathtaking changeover of your terrazzo floors, right here in Illinois? Imagine the charm of repairing terrazzo restoration in Illinois that transcends expectations. At Tercon System we specialise in the art of terrazzo floor repair Illinois, infusing new life into your weathered terrazzo, stone, and concrete surfaces. Embark on a journey of refinement and charm as we unveil the secrets of Illinois terrazzo repair.
Tercon Systems' mission is to shine a spotlight on our comprehensive range of offerings, with a particular focus on our meticulous terrazzo floor repair services in Illinois. Our service portfolio has been meticulously curated to cater to the needs of homeowners, business owners, and real estate professionals alike, ensuring a seamless synergy with your unique vision of flawless terrazzo flooring solutions.
Terrazzo Repair Illinois
Are you witnessing a gradual fading of your terrazzo floor's once-glistening charm, with visible wear and tear becoming more evident? Look no further than TerCon System, the foremost authority in Illinois when it comes to the art of meticulous terrazzo repair. Whether dealing with unsightly cracks or resilient stains, our cutting-edge techniques are designed to breathe new life into your terrazzo, restoring its flawless vibrancy.
With unwavering trust in our expertise, prepare for an extraordinary transformation that surpasses your expectations, revitalising your terrazzo flooring in a truly remarkable evolution.
Illinois Terrazzo Repair
Embark on a journey to witness the captivating radiance of your terrazzo floors, skillfully transformed by our terrazzo restoration specialist in Illinois. Leveraging cutting-edge innovations, we artfully unveil the inherent splendour of your terrazzo with meticulous processes encompassing grinding, polishing, and vitrification, creating a breathtaking spectacle.
Yet, our purpose transcends mere aesthetics – it's about safeguarding the everlasting impressiveness of your terrazzo, guaranteeing its enduring charm remains an integral part of your space.
Stone Restoration Illinois
Search through into a realm where our proficiency extends beyond terrazzo, encompassing a wide spectrum of stone surfaces like elegant marble, timeless travertine, and the rustic allure of natural stone. With the expertise of our seasoned terrazzo restoration specialists in Illinois and the aid of cutting-edge equipment, we embark on a transformative voyage dedicated to your stone spaces.
Witness the revelation of their innate splendour as we meticulously erase flaws and imperfections, breathing new life into each surface and unveiling an aesthetic that captivates the senses.
Illinois Terrazzo Grinding and Polishing
Envelop yourself in the embrace of unparalleled excellence as you embark on a journey of exceptional transformation through our distinguished terrazzo grinding and polishing services available exclusively in Illinois. Harnessing the power of advanced techniques, we meticulously obliterate surface imperfections, clearing the path for an intricate polishing process that magnifies the radiance and transparency of your beloved terrazzo floors.
Whether you seek to rejuvenate weary floors or infuse an enchanting charm into your living space, rest assured that our specialised services hold the key to the solution you have been diligently seeking.
Terrazzo Patch Repair
Glimmering brilliantly across the expanse of our capabilities is our mastery in the realm of terrazzo patch repair, where we skillfully tackle precise issues and fortify areas that have succumbed to weakness. This strategic approach stands as a testament to our commitment to ensuring that the allure of your terrazzo remains undiminished for many years to come.
Our adept technicians, armed with meticulous precision, embark on an intricate evaluation of the damage, crafting tailor-made solutions that meticulously uphold the opulence of your treasured terrazzo surfaces, breathing life into them with an enduring charm that is bound to leave a lasting impression.
Revitalise Your Surrounding Today with Tercon System
TerCon System is your trusted partner for all your terrazzo needs in Illinois. Our unwavering commitment to quality, innovation, and excellence sets us apart, making us leaders in the field. Whether you are a homeowner seeking to enhance your living space or a business owner aiming for an impressive ambience, our personalised services align perfectly with your goals.
Ready to transform your surroundings? Contact Illinois' premier terrazzo experts at TerCon System today. Experience the transformative power of our services as we turn your terrazzo, stone, and concrete surfaces into captivating works of art that truly enchant the senses.