Reviving Terrazzo Elegance with TerCon System's Terrazzo Services in Indiana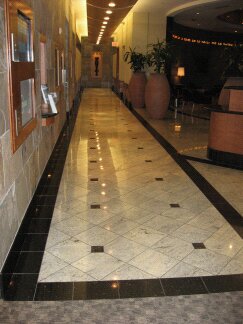 TerCon System is a pioneer in terrazzo refinement. We are known as trailblazers in their field and derive immense satisfaction from rejuvenating tired terrazzo, stone, and concrete surfaces with innovative approaches and revitalized techniques. In this blog post, we aim to showcase our comprehensive range of services, with a special focus on precise terrazzo floor repair in Indiana.
Our services are meticulously crafted to meet the requirements of every homeowner, business proprietor, and real estate professional, ensuring a perfect match for your distinct vision of impeccable terrazzo flooring solutions.
Terrazzo Repair in Indiana
TerCon Systems recognizes the importance of maintaining your terrazzo floors' allure and structural integrity. Terrazzo repair in Indiana is tailored with meticulous attention to detail, addressing various issues such as cracks, chips, and stubborn stains.
Utilizing state-of-the-art methodologies, our skilled professionals ensure a flawless restoration of your terrazzo surfaces, revitalizing them to a pristine state. When seeking dependable terrazzo repair in Indiana, trust TerCon Systems to exceed your expectations and deliver an exceptional transformation.
Terrazzo Floor Restoration in Indiana
Watch as your terrazzo floors regain their radiance through the expertise of our terrazzo restoration specialists in Indiana. Combining extensive knowledge with cutting-edge technologies, we expertly grind, polish, and terrazzo vitrification, revealing a surface that exudes opulence and refinement.
Beyond enhancing the visual appeal of your space, our primary objective is to preserve the enduring charm of your terrazzo flooring, ensuring both its beauty and longevity. Renew your surroundings with a touch of sophistication—entrust us to amplify the grandeur of your terrazzo.
Stone Restoration in Indiana
Our expertise extends beyond terrazzo, as we excel in restoring and polishing various stone surfaces, including marble, travertine, and natural stone. Guided by our skilled craftsmen armed with profound knowledge and advanced tools, we orchestrate the revival of your stone expanses. Imperfections disappear, unveiling the innate splendor within.
Whether in residential or commercial settings, our stone restoration services in Indiana are customized, aligning meticulously with the unique requirements of each project. Your stone's transformation into magnificence is our unwavering commitment.
Indiana Terrazzo Grinding and Polishing
Experience an extraordinary transformation with our unmatched terrazzo grinding and polishing services in Indiana. Utilizing cutting-edge techniques, we skillfully eliminate surface flaws, preparing the surface for an intricate polishing process that enhances the radiance and transparency of your terrazzo floors.
Whether breathing life into tired floors or infusing opulence into your surroundings, our terrazzo grinding and polishing services are the quintessential solution. Elevate your space with an unparalleled radiance that is truly captivating.
Terrazzo Patch Repair in Indiana
Going beyond our comprehensive terrazzo repair and restoration expertise, we excel in the realm of terrazzo patch repair in Indiana. This precise technique empowers us to target specific issues and reinforce weakened areas, preserving the enduring beauty of your terrazzo surfaces.
With precision, our skilled technicians assess the extent of the damage and apply tailored solutions, ensuring a lasting transformation that withstands the test of time. Rely on us to work restorative magic, preserving the magnificence of your terrazzo surfaces for years to come.
Contact TerCon System for Your Terrazzo Transformation
TerCon Systems is a trusted partner for all your terrazzo repair, restoration, and maintenance needs in Indiana. Our team's unwavering commitment to innovation, quality, and excellence positions us at the forefront of the industry. Whether you're a homeowner looking to enhance your living space or a business owner striving to create an impressive atmosphere, our customized services perfectly align with your unique goals.
Reach out to us today to discover the remarkable capabilities of TerCon Systems as we transform your terrazzo, stone, and concrete surfaces into enchanting works of art that truly captivate the senses.